Everything Gold Plated
We make sure you're able to get quality jewelry at an affordable price!
Free Shipping on all U.S orders & special gift for orders over $50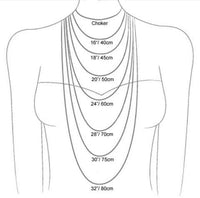 Necklace Size Chart
Here is a size chart to see how the length of our necklaces will look on you while wearing!
Our sizes are usually just 16",18", 20" and 24" the size length will be in the description of our product
If you would like a different necklace size on one of our products, please send me a message through our chat box, or leave a note at checkout thank you!